Tag: Uranus in Aries!
by judy on Mar.06, 2011, under In The News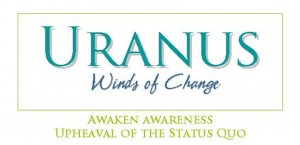 URANUS in Aries March 11 2011 – May 15 2018
Look out here we go! Uranus is the dynamic planet of awakening, of letting go of old ways usually through unexpected and disruptive action. It shakes us out of our delirium and orders us to get out of our self imposed cage and do something about our life. No more blame.
In Aries the fire sign, the emphasis will be on independence and new beginnings. Uranus will bring us all changes this year (2011). If there are areas in your life that are stagnant, limiting, and intolerable,Uranus will target them. Unfortunately it can be an upheaval if you are not living positively and proactively. It is a time also of spiritual tests and awakening.
If we use this time to change what needs changing with the courage Aries delivers us, we will be new individuals once this transit is over.
We can bring new innovative changes to the world now, We will find this transit of Uranus will bring breakthroughs in science, medicine and technology.
The last time Uranus was in Aries was from 1927 to 1935, when the stock market crashed and the great depression started. That certainly seems like another possibility, as does a world war (Aries is the sign of war). Uranus also rules revolt, and the dictatorial regimes that revolt often engenders – Iran, for example, is an Aquarian nation, (ruling planet is Uranus). The action to come will be for liberating those who are limited in their current existence, from one country's struggle to the individual plight for freedom.
Where Uranus lands in our individual natal charts can direct us to the changes ahead for us, and help guide our hands to what needs fixing. Be advised, it will affect us all, so the old adage, "Know Thyself" takes on a special importance. It is the way to our new selves.
Leave a Comment
:
Uranus in Aries!
more...
by judy on May.27, 2010, under In The News
For the first time in 84 years, Uranus enters the sign of Aries. Uranus is the planet of originality, unexpected events and freedom, and Aries is the sign of war, pioneering and new beginnings.
Joining in the fight will be Jupiter, as of June 6th to the 13th, in Aries at 0 degrees.Jupiter expands whatever it joins, so we can expect fireworks even after the 4th of July! This duo can shake up our reality in more ways than we can imagine. Great time to forward those plans of changing it up, beginning a new phase, breaking free of former limitation and taking a chance. It's a no fear transit, giving us the courage to act on what we may have procrastinated on with the Pisces energy. Watch for the building tensions and sudden releases through the summer, as the planets align for an all out opposition July 30th between the Moon, Jupiter and Uranus in Aries, within 3 degrees of each other, opposite Mars and Saturn in Libra. WOW
Leave a Comment
:
Uranus in Aries!
more...