by judy on Aug.27, 2012, under In The News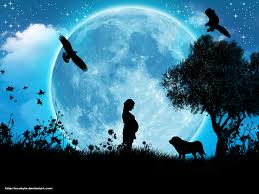 A Blue Moon according to The Farmers' Almanac is "an extra full moon that occurred in a season; one season was normally three full moons. If a season had four full moons, then the third full moon was named a blue moon."
Many people have begun using the name Blue Moon to describe the second full moon of a calendar month. Can there be two blue moons in a single calendar year? Yes. It last happened in 1999. There were two full moons in January and two full moons in March and no full moon in February. So both January and March had Blue Moons.
The next year of double blue moons is coming up in 2018. But, the next Blue Moon will be August 21, 2013.