Tag: The Elements
by judy on Apr.09, 2009, under SkyerLearning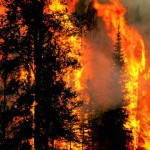 Fire is a state of being. It combines with the elements and causes reactions. When it combines with Earth, it becomes molten lava. When it combines with air, it becomes larger and fiercer. When it combines with water, it becomes steam and fog, or boils.
Fire is expressed three ways in the zodiac, once as cardinal, AIRES, once as fixed, LEO, and once as mutable, SAGITTARIUS. Fire rules passion, energy and power, and indicates where the best use of our strength lies.
Fire can be a smoldering, never ending burn that happens beneath the surface. It can ignite what it is around, and can suck the air out of a room. It uses its environment to rage on, and can deplete it.
Fire energy is dynamic. It is the provider of change, in that it transforms whatever it aligns itself with. It can destroy or create, depending how it is used.
The positive use of Fire is to ignite one's passion to follow the trail like wildfire. To use whatever is at your disposal to get the job done. To have the energy to complete things due to your enthusiasm and this spreads to those around you.
The negative use of Fire energy is to fire off at those who aren't deserving of it, to get invested in ego games, power games, and deplete others of their enthusiasm. The issue for fire people is allowing the ego to direct rather than their higher self, as they have limitless potential once the self steps aside. Then the leader who serves their flock emerges.
7 Comments
:
The Elements
more...